Welcome to Stoke St Michael's Church
The Heart of the Community
St Michael's is an Anglican church that has been the heart of the community in Stoke since it's foundation in 12th Century by the Earl of Chester, the nephew of William the Conqueror.
We are committed to loving God, learning God's ways and living for others. We want to invite you to join us; for worship, for prayer, for friendship or simply a chance to take a break from the hustle and bustle of city life.
If you need to contact the Rector, Rev'd Claire, please call 07532260027 or email: revclairestoke@gmail.com For centre bookings please call our administrator on 02476 443691or email: office@stokestmichaels.co.uk
We are now delighted to say that we are back in church for all our main worship services, starting at 8.00am with a Said Holy communion, at 9.30 for our All Age Worship. At 11.00 we have Holy Communion with our wonderful choir.
We also invite you to attend our Wednesday Communion at 10.00 am face to face in church.
All our services are now live streamed on our Facebook Page - please see the following dedicated page here.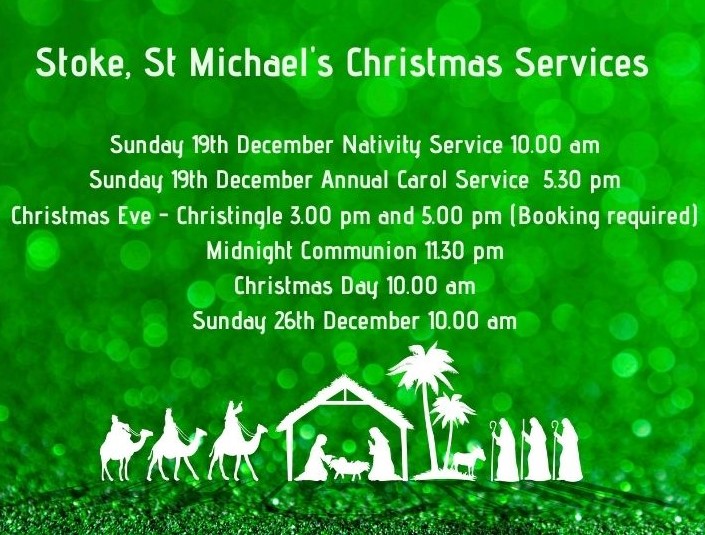 To book our christmas services please see the following page.
We are delighted that our Mother's Union group,our Mikes Tikes toddler group and Sunday lunchclub are all meeting again. If you would like to register for a place at either group please email: revclairestoke@gmail.com
If you are aware of someone who doesn't have access to our website or social media but feel they would need / like to be kept informed, please contact us through our contact us page or call us on 02476443691.
Our church is a family church and all are welcome to come and be part of our family where, as Disciples of Christ, we seek to know Him more and make Him known. There is much on offer, for all people, and we're excited by all that God is doing among us in this part of Coventry. Come and see.
Safeguarding
At St Michael's we're committed to the Coventry Diocese Safeguarding Policy and take our Safeguarding responsibility seriously. For more information on the diocese safeguarding policy please click this link to load the policy document.
You can also find out more information on safeguarding at Coventry Diocese and what training is available.
If you have any safeguarding concerns, please contact our Parish Safeguarding Officer, Dawn Corkish, via email using this link
For more information or to contact the Diocesan Safeguarding Team please call 024 7652 1345.
Past Cases Review
In 2007, the Church of England commissioned a Past Case Review which sought to look at the handling by the church of child protection cases over many years.
All dioceses have now been asked to re-examine and extend the review (PCR2). The House of Bishops wants to ensure that our churches and church related activities are as safe as possible for children and vulnerable adults.
Please note the following letter from Bishop Christopher for information on what we're doing at St Michael's and across the Coventry Diocese.
If you any concerns regarding the safeguarding review, please contact Rev Claire, via email using this link.
More information is also available on the Coventry Diocese Safeguarding pages, under the Past Cases Review 2 pages.