Support Team
Churchwardens
Malcolm Vanston-Rumney
Malcolm has been Churchwarden at St Michael's since Easter 2006. During that time, Peter has been the other Churchwarden and they have shared the responsibilities involved. They have worked with 2 Rectors and also during a vacancy when we had no Rector. The role has very varied responsibilities, but their main responsibilities are to support the Rector and to be generally responsible for the day to day functioning of the parish. Malcolm finds himself dealing with anything from churchyard maintenance, welcoming people to church, changing light bulbs to dealing with Child Protection issues. Malcolm has attended St Michael's since the late 1980s and particularly enjoys being a member of the choir. A great many activities take place at St Michael's. Malcolm currently helps at Mike's Tikes, a parent and toddler group held on Thursday mornings, which is great fun. Malcolm says "When they were young, our three sons attended Junior Church and Chris Cross, the youth group, as well as being confirmed. We are a vibrant community and I hope that more and more local people will come along to discover more about us".
Peter Dronfield
Peter was baptised at St Michael's in 1953. His involvement at St Michael's goes back to when he attended Sunday School at St Michael's hall in Momus Boulevard (now sold). He was a member of St Michael's Players Am-Dram Group, starting backstage before being 'persuaded' to act! He was Chairman for many years until the group ended 2002. He became a sidesman in his late teens and joined the Church Council aged about 20. Peter has been heavily involved in various aspects of leadership a St Michael's for many years; from Churchwarden to Treasurer to representative for St Michael's on the Caludon PCC. He became the Office Administrator/Secretary about a year after William returned as Rector. Our churchwardens; Peter and Malcolm, have been instrumental in the work they do in the church on a daily basis and in the work they did during our last interregnum. The jobs they do are many and they can often be found in the office or around the Centre making sure everything is 'ship-shape'.
Verger
Barbara Williams
Barbara began worshipping at St Michael's after returning to Coventry in 1983. She counts her faith as a central part of her life and loves the friendship and feelings of being connected that she has at St Michael's. Barbara has been verger since 2008. With a background in nursing she describes the role of verger as a privilege and an opportunity to serve the local community. As verger she prepares the church for weekly services, weddings and funerals and makes sure we're never out of stock of wine, altar bread, candles and other essentials. Barbara says, "For me the church is about people and I love being part of the church team and belonging to the faith tradition".
Sacristan
Sue Miller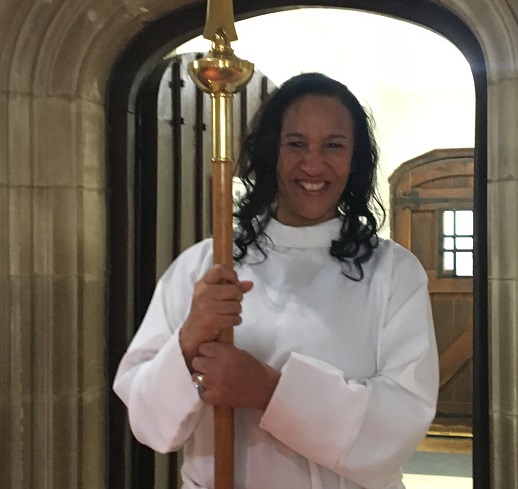 Sue has been attending St Michael's for over 15 years. She is both our Sacristan and Head Server. Sue prepares the communion for Sunday Services beforehand with the assistance of Graham Medd, a member of the serving team. Every quarter Sue prepares the rota that ensures we have servers at our Sunday 8:00am and 11:00am services. She serves most weeks herself. Sue's commitment to her role, along with her gentle nature and love for laughing, make her one of the friendliest members of St Michael's. She would like anyone who is intersted in serving at St Michael's to come along and have a word with her, she's happy to help!
Website Team
Paula Burke
Paula has been a member of Stoke St Michael's Church since September 2009. She enjoys being involved in many aspects within the church & is currently a member of various groups which include the DCC, PCC, Transformation/Mission Group & Home Group. Paula has a great sense of fun and recognises that the social side of St Michael's is working hard to build the relationships that bring us all closer together as a family. Paula says, "I love my church & have never looked back since joining in 2009, I was recently confirmed and have been able to visit Holy Island & Greenbelt with some church members to learn more about God & becoming a better Christian."
Adam Cadman
Adam Cadman is a genius. Without the invaluable help from Adam this website would never have came into being. Adam has been building websites personally and professionally since 1999. He is a master at spotting those tiny bits of code that, like a pebble in the smallest cog, can bring down the whole machine. Adam and his wife Mary have been with the St Michael's congregation regularly for the last 7 years.
Chris Dronfield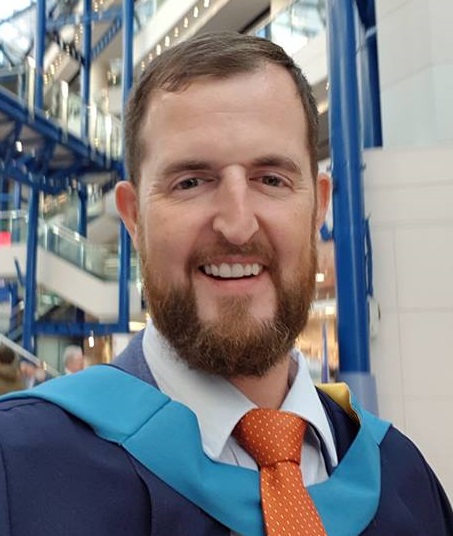 I'm the webmaster of St Michaels.co.uk and I want to welcome you to our website. I'm not a website wizard by any stretch but will be happy to share what ever little titbits I know with anyone who is interested. This is the second website I've done for St Michael's since we first launched St Michaels.co.uk and it's come a long way. Before building our first website I had no knowledge of website buidling at all and would tell anyone who is preparing to build a website not to be afraid as there is so much help out there if you're stuck. For me I have to say a huge, huge thanks to Adam Cadman who truly is a website wizard and has helped with javascript, php and those little bits of code that had me pulling my hair out. So please, take a look around and if you need anything just contact me through our Contact us page, selecting "Other".